My docile, slow flying, easy handling "Dream Weaver" continues to entertain me half to death! (Click to see the model itself)
This morning dawned with very thick mist and only grey stuff visible above consistent with the detailed forecast so I planned on continuing a long overdue redecorating task.
By about 10 am I realised the sky was becoming brighter with blue in it so I quickly rigged Dream Weaver and started to walk up the valley side wondering if I could video some of the higher houses with mist still swirling around them.
Only part way up I realised I was under a hole in the mist that might be flyable from near the valley floor so I relocated back to the bottom and it looked possible with thick sunlit mist banks all around but blue sky above.

Click photo for larger version
After launching into a steep climb Dream Weaver quickly started to fade away until I kept turning it within the boundaries of the great hole. I climbed as high as I could feel comfortable with and then probed the edges of the hole, turning as it started to fade out of sight, once vanishing for a moment. Backed off to part throttle then cruised it slowly around for a minute or so, (knees shaking!) before slowly gliding down to recover some interesting footage while the hole was starting to close in on me.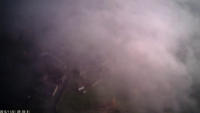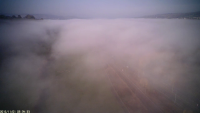 Click photos for larger versions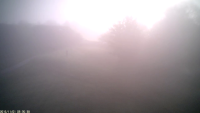 Down on finals there was visible mist between it and myself, first approach was an overshoot so went round again through the mist without too much difficulty.
I attach stills from the flight. Some show both the top of the mist and the hole through which we climbed. One shows a look down through the hole onto buildings here, the last shows the first overshooting approach with myself as just a dark vertical streak.
I love parkfly!
Denis Oglesby
Denis sent me the "flying in the fog" photos just out of interest, when I checked up with him about using them on the web site he added this information about Dream Weaver.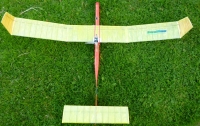 48" span with undercamber, 12 ounces with 20g pole motor and Jeti Duplex 2.4 GHz R/C.
Have proved 2.4GHZ works beyond visual range in fog!
Carries recently improved keyfob video camera with "B" lens.
Only flown when forecast wind =< 5mph, endplates make rudder control very precise.