Patiodor (a kind of Matador)
We can blame Harry Perkins for this one.The announcement that there will be a series of precision contests for electric cabin models ("Electric Bowden" events)  at the Barkston inter-club "Kencomps"  led to thoughts about what is required. Firstly, as a gereral rule, most f/f contests take place in unsuitable weather.  Secondly, I feel that  most f/f electric models are under-powered; especially if Harry calls for RoG. Still smarting from the destruction of the Cloud Elf in the Dunsterville Memorial, I decided that the first requirement is surviveability.
The rules therefore are simple:
Don't lend it to Bernie
Build it strong.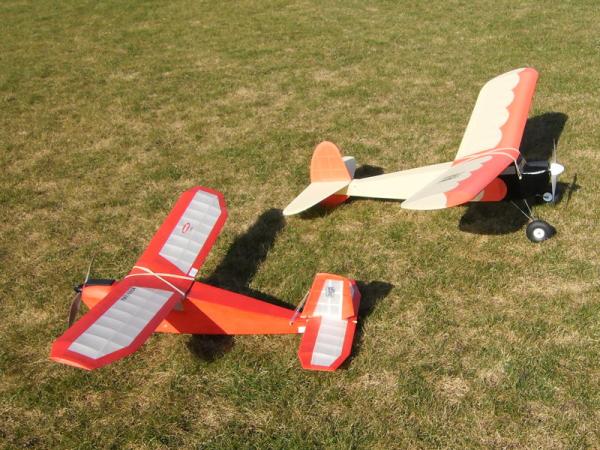 The Starting point was a Matador plan. But after considering what components most frequently suffer in events such as last year's Bowden, I have sheeted the fuselage with 1/16th balsa, sheeted the leading edge of the wings, stiffened the cockpit front with spruce and developed easily-replaceable keys for the tail. Rather incongruously for an electric model, I have fitted one of my clockwork timers to use as an fly-away precaution (ie, set for just over 60 seconds, at which point a Bowden flight is declared void.)
As for power, I carefully heeded the advice of Ian, then chose to ignore it. Or, to be more exact, I have chosen the power train that he recommended for my other electric f/f job, the Junior 60 (also pictured here.)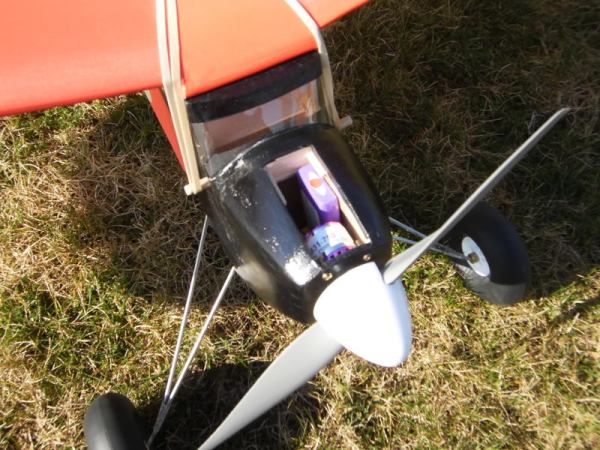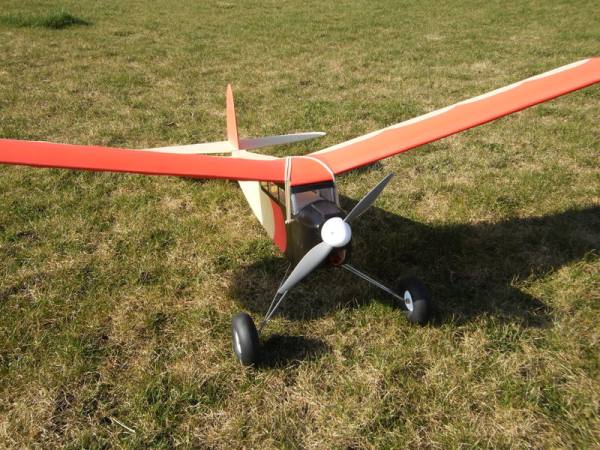 After all, power can be reduced by use of the controller. The intention, if I can trim the plane as I intend, is to punch away from ground turbulence: I had a Madcap that was brilliant at that, in any degree of wind (including the flight in which it was lost, at Lodge Farm.) Consequently, the nose of the model, which bears very little relationship to the original plan, is built round quite a large motor, battery and s/c. The size of the battery is such that it will need no attention during a day's flying.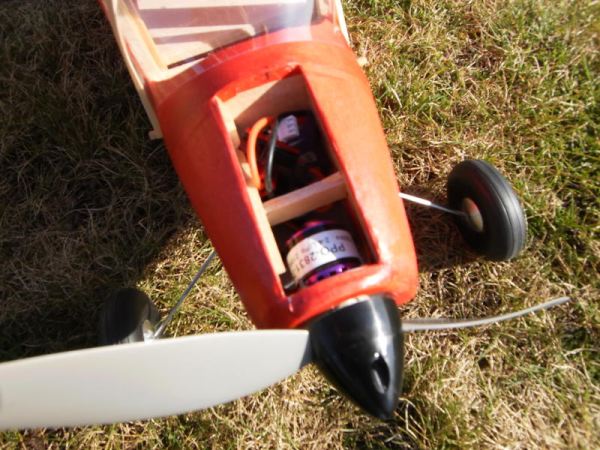 The controller needs an arming mechanism. I understand that means a switch to switch it on or off. (Why don't they say so?) I have added an "arming device" to the power line which connects the sc with the timer, and now all works well. One remaining problem, upon which the greatest of minds are currently working, is that there is a ten second delay between switch-on and motor run. OK for those wimpish indoor types but not good in the real world when we want to chose a lull between gusts. When/if a solution is found, I'll add it here. 
Specification:
Motor + speed controller PPO-COMBO-12 from 4-Max
Battery PPL-30C2S-1000mAh LiPo 4-Max
Propellor APC 11 x 7 (initially) using adaptor HP-ADAP-32XL from Hyperion
(4-Max originally sold me a GWS EP 11x80, but Real Men don't use pink propellors!)
Covering Woohhouse heavy Esaki over Polyester
Ballast none, Ted!
Moley
March 2011