Bernie sent this photograph, 5th April 2011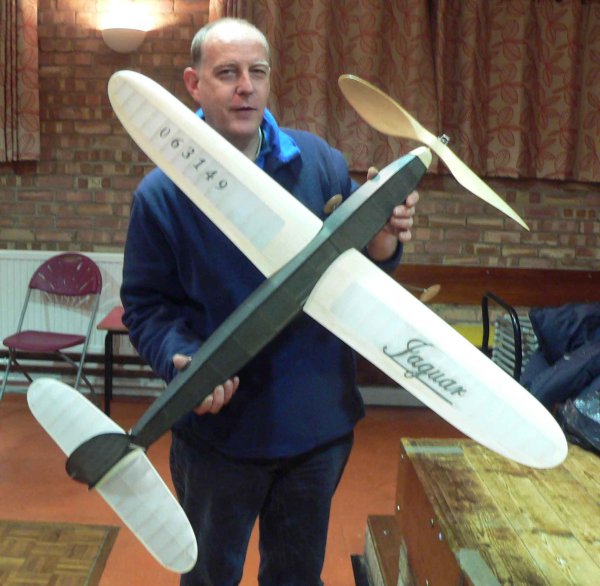 Kev & his Jaguar
Note from Tony
As a result of seeing Kevs Jaguar at the Friday evening session at Ferry Meadows on 8th April 2011 I did some web searching. The Jaguar has a mention in Wikipedia:-
"The 'Jaguar' Wakefield model aeroplane
The 'Jaguar' free flight rubber-powered aircraft was the most second most famous Wakefield model of all time, after the 1939 Korda Wake, and was designed and flown by Ted Evans. Many modelers built this unusual looking 44.5-inch (1,130 mm) wing span aeroplane and achieved success in competitions from 1947 to 1950. The 1948 Wakefield Cup was won by Roy Chesterton in Akron, Ohio, USA using this design which he constructed himself. Plans of the Jaguar were published in the October 1948 Aeromodeller. The Aeromodeller Annual 1948 then dedicated four pages and its front cover to the Jaguar. A photo of the model then appeared on the front of Model Aircraft magazine, August 1949 and a two page spread was given over to the Jaguar in Model Planes Annual 1949. This indicates the importance of this design. Despite the Jaguar's success Ted Evans felt this model could be improved upon and he set out to design the Clipper, and then the model which gained him the most success, the Vansteed. Although Ted Evans had been designing and flying his designs since the early thirties there were only two more designs to follow the Vansteed. Neither were given names but both featured more complex construction."
I then discovered "The Model Shop, Northants", a really excellent piece of history, well worth a read. The following is taken from the web site.
"Following his war years in the RAF my father returned to running the shop and, a chance to pursue his quest to win the Wakefield Cup. In football terms this is equal to the World Cup with teams from many nations participating.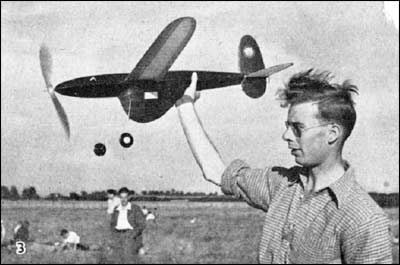 He was never afraid to take a clean sheet of paper and start a new design and was keen to try out new concepts. Although he was unsuccessful in his attempt to make the British team in 1948 it was his unusual, but most successful design that was to win the Cup in that year flown by Roy Chesterton. Named the Jaguar this model, shown here with Roy, was to become the most talked about model of its time. The competition was held in Akron, Ohio, USA."
See also "The Wakefield International Cup by Charles Dennis Rushing - 1948"