BUMP……an electric model of some versatility
BUMP was brought to me by Michael Henriksen late of Indoor Flyer. It came as a laser cut 2mm Depron sheet and assembled into a high wing 200mm span model in the Ugly Stick tradition. Mike had intended this as an indoor RC actuator driven model. I built it as a free flight sport model for outdoors using a 6mm motor and propeller from a defunct Xtwin. Motor control was via a Peterborough FET timer. With a 60-90mah LiPo BUMP flew exceptionally well in windspeeds up to 10knots for AUW's of 10-13gm. It has been flown for 2 seasons and cannot be broken and takes no more than 2 hours to build. The model was decorated with tissue printed files (click here for the file) cadged from a Mike Smart biplane design from www.aatoolbox. (Click here for BUMP plans).
BUMP production
A production run of BUMPS was made for friends and PMFC colleagues as below…..

A production run of 8 BUMPS for friends and PMFC members
BUMP has appeared in many other guises, shown below……….
BUMP lite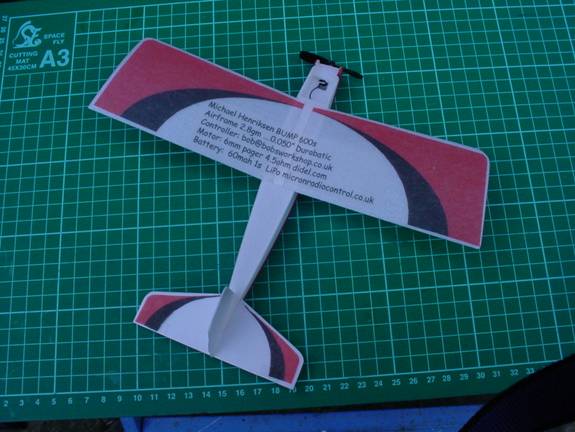 A BUMP in Durobatic foam retaining the Xtwin 6mm page rmotor
This was an attempt to shed weight using .050" Durobatic foam to allow the model to run indoors. An airframe weight of 2.8gms was achieved and motor speed control was contrived using a Bob Blackburn Infra Red controller. This variant is slow enough to fly indoors (just)
BUMP record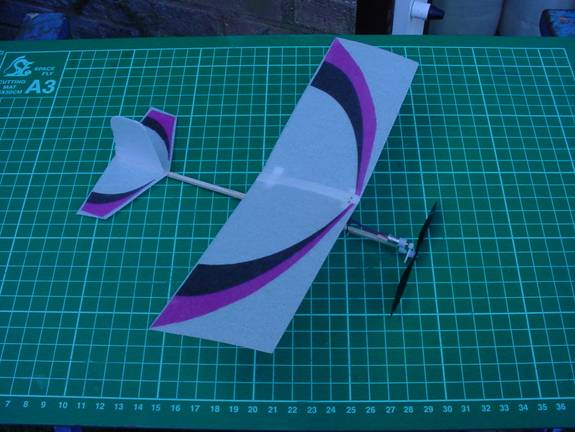 This variant was built to establish a personal electric indoor record flight of 10mins. The fuselage was replaced by a light balsa stick and the motor was replaced by a geared 4mm pager with a CF propeller sourced from www.micronradio.co.uk and a 30mah LiPo. An airframe weigh of just over 2gms was realised. The model flew well but was still too heavy for a 10min target.
BUMP RC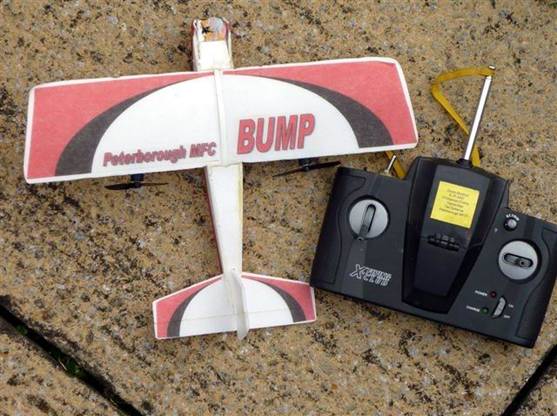 Ted Szklaruk transferred his Xtwin radio into a BUMP airframe and runs indoors on a 90 mah LiPo (AUW 15gm) and outdoors on a 200mah LiPo for improved penetration and longer flight time. The model is indecently quick.
BUMP variants
The model scales up and down as shown below………..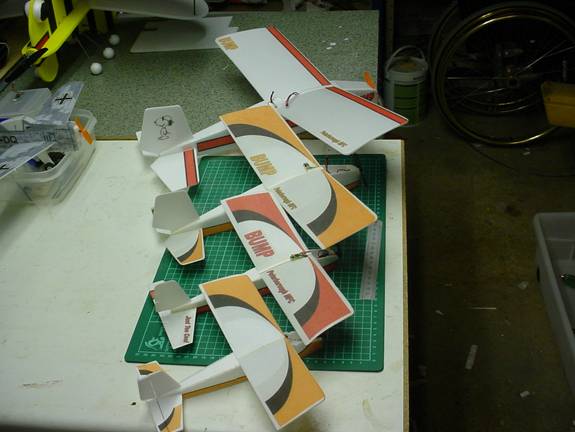 All models use a brushed motor, 6mm for the the 2 smaller , 7mm for the 3rd and 12mm GWS EDF for the largest. Spans vary from 200 - 450mm and are flown free flight. Flight controllers range from the simple Peterborough MOSET through Atomic Workshop Zombie, kpaero PIC chip and Bob Blackburn IR.
Ian Middlemiss - September 2010
Below is "Bigga Bump" from Ted Szklaruk - August 2011
Ted said "just completed a four engined 'bump' after finding a bag of  X plane engine parts donated to me from the 17 year old who always flies the shokkies and helicopters at Oundle school.
AUW is 53grams and it is a real floater flying on only a sniff of throttle when I test flew it at 11.30pm tonight in the dark of my garden! - It is a radio xplane.