January 2013 - the latest from Christian in Canada.
I have been enjoying the 'Latest Updates' on the website, including Ted's recent videos. The Veron Slingsby Prefect is of great interest, as I am presently designing a double size (60" span) version for RC aerial tow next summer. The 'recovery' from the bungee launch is impressive - and is an encouraging aspect of this design - as RC aerial towing does not always go as smoothly as one would hope...
Here is my latest project - Bill Hannan's 'One Knight in Boston'. First 'trimming flights' at the gym on Saturday were less than spectacular, but the brave Bostonian knight and his trusty steed will be back next week - with trim tabs! Covered top surfaces only (Esaki) - 11 grams less rubber.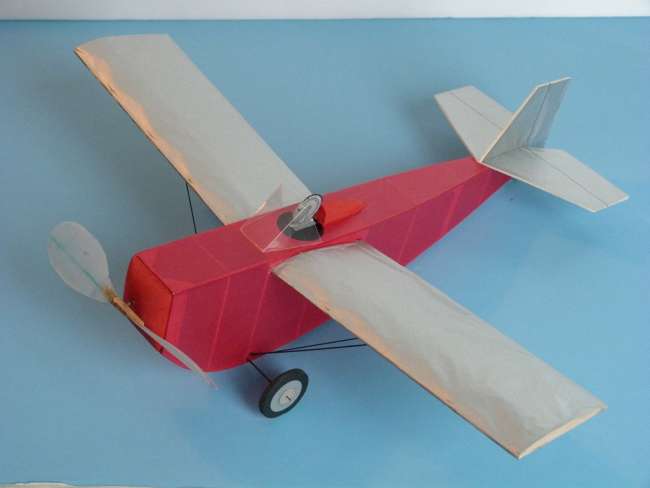 After a mishap in the hangar, my Gyminnie Cricket required some repairs, and was badly out of trim as a result. With the airframe trimmed once again, I thought it would be a good idea to upgrade the 'old stock' rubber motor with some new 1/8" Peck Polymers 'Super Sport' - this time with a little longer loop, knowing that it might have a bit more 'kick'. The video tells all!!!
The cricket was retrieved (using the 'big stick') - but with plenty of turns left on the motor, it did not leave it's perch 'willingly'. We are happy to say that repairs have now been made and we'll try again next week...
Also of interest, "Combat Graffiti 2012" - a c/l event with a classic touch! Sadly... a long way from St. Joseph Island or I would try to attend next year. Check out the video!!!
| | |
| --- | --- |
| Thanks to "Flying Lines - News of Northwest Control-line Model Aviation" for the video and picture. | |
Btw, St Joseph Island is accessed via road bridge and causeway to the shore. Although, at this time of year, people can cross over the ice via snowmobile. This pic taken on Saturday, while returning from our regular indoor session of the full moon rising over the Wilson Channel.