An E20 model, the Ferry 500 for the 2014 monthly Ferry competitions
Previous posts have outlined my learning curve on the development of a small field free flight E20 capable of being flown at Ferry without complete fear of loss.
(March 2016 - Click for "How to get "More Power from the GWS 12mm motor for E20")
After 12 months messing about, I believe I have something of interest and hope to encourage my clubmates to build replicas or something similar to take part in the monthly competitions organised by Peter G in 2014 for the Ferry venue.
The Ferry_500 I hear you ask? Well 20" x 25.4 (mm) is jolly well near enough and the UK was metricated in 1975, so its about time span was quoted in proper units or am I flogging a dead horse?
The previous posts can be accessed via these links…..
E20 using a Parkzone power unit
Update to a " Small Field Duration Model for Electric Sport Free Flight"
A Small Field Duration Model for Electric Sport Free Flight
I will give a short talk on E20 on the 17th January at Peakirk.
To recap, I have tested models with the following power units……
A 12 Watt Bronco brushless set up
A 12mm GWS brushed can motor 14 Watts
A Parkzone 8mm brushed motor as per US interest, about 10 Watts
Whilst there are advantages and disadvantages of each system, the 12mm GWS power unit was judged to be the most durable, cheap to put together (£10) and most fun. I used P20 Spencer Willis flying surfaces, I think that these were Sweet P20.
To remind you of the model……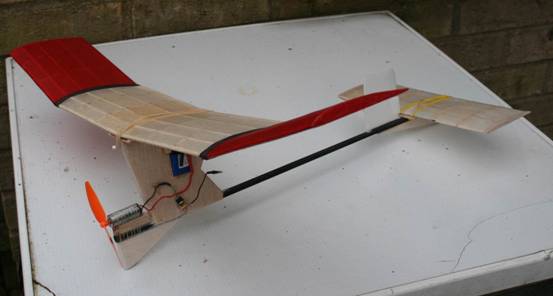 It now has a Tomy wiggler DT and a balsa fin in order to not raise Moley's blood pressure.
The model launches well with a substantial climb rate……
Agreement has been reached with Peter G that I can organise a Ferry_500 competition for 2014 on the dates of the monthly P20/CLG/36" bungee competitions.
The rules for the competitions will be……
Wingspan 20" max or as I prefer 500mm
Fuselage length 20" max or as I prefer 500mm
Power unit 12mm GWS brushed can motor running a GWS 3 x 2 (Imperial)
FET timer to control motor run of 12sec (see below)
Battery: 240mah maximum 2s LiPo. You can run a 1s if you prefer (wimpy).
No restriction on min or max weight
3 flights to a 60sec maximum
Needless to say that there will be a ridiculously expensive plastic trophy supplied by me for the Victor Ludorum over the 4 contests at the 2014 PMFC AGM. Of course bragging rights for the next 12 months and entry in the PMFC magazine's Hall of Fame…….but do not use foam or Moley will have a field day.
A plan of the fuselage I have used drawn to half scale is below. Unashamedly this is of Dixie origin as I am an aficionado of the late departed George Fuller's designs. Regret I am not going to show the flying surfaces as they were recycled P20. If you want an A4 version of this contact me at the email address at the bottom of the article.
You do not have to make this design but it might be a starting point. You ought to be able to complete this in 2 hrs or if you are Shippo 30mins whilst simultaneously carving a full size prop and eating one's lunch.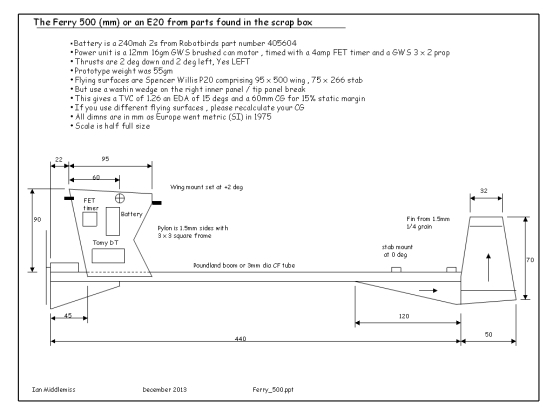 Click for an easy to print .pdf A4 version of the above drawing.
There are good reasons why I have specified the power unit which I will explain in depth on the 17th January at the Peakirk club meet. Suffice to say that this will give a level playing field to all. Let it not be said that I have gained undue advantage in the 12 months of E20 testing aka messing about!
And now for THE OFFER…………
I intend to supply the FET timers FOC and am going for a SPECIAL with a fixed 220k resistor that will only need a 9v PP3 to get the motor running. This will give a fixed non variable 12 sec motor run which does not need to be ground checked at each comp. I will also supply the motor FOC and 1 repeat 1 prop (GWS 3 x 2). What you have to do is to give me a completed fuselage complete with the specified battery and I will install the motor/battery/timer and make the loom. I will then return it ready to run and you will balance it. I regret that I cannot hand out power units ad hoc and will need your completed E20 fuselage to show intent.
Whilst THE OFFER is primarily intended for PMFC members, I can supply 'friends of the club' until the motors/FETs run out. Non members will be charged at material cost.
I have prepared 5 motors and FET timers complete with looms. Motor runs to complete stop were measured at one at 11.7s, two at 12s and two at 12.2s. Each being the average of 3 runs.
Ian Middlemiss December 2013
Contact address : [email protected]