Soo Modellers, Canada,
Saturday session 18th January 2014
Wow!!! You name it... and we had it airborne in the gym on Saturday...
New this week - the Avitron 2.0 bionic bird is absolutely amazing and is highly recommended !!!
More info can be found at the manufacturer's website:
I purchased mine at Robotshop (Canada) for $99 plus shipping & our beloved HST. Order today , you may have it in time for next weekend? Perfect for indoors and calm summer evenings (oh... so far away!) it will great fun to fly this one in the back yard or park!
http://www.robotshop.com/ca/en/my-bionic-bird-r-c-ornithopter.html?___SID=U
In addition to Peter's amazing photos this week, we have a new video for you as well:
https://www.youtube.com/watch?v=sIzkUAaSyqE
Enjoy!
This charming little chopper was seen stirring the air at the east end of the gym.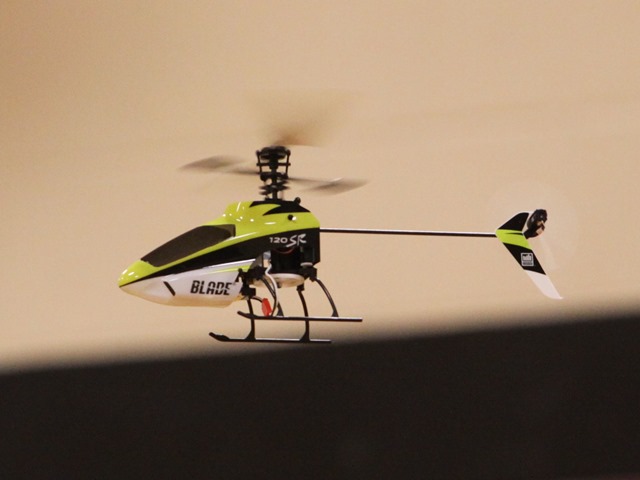 No, you're not seeing double there are now two micro Ugly Stiks. Craig's Parkzone powered version on left, Peter's larger brushless version on the right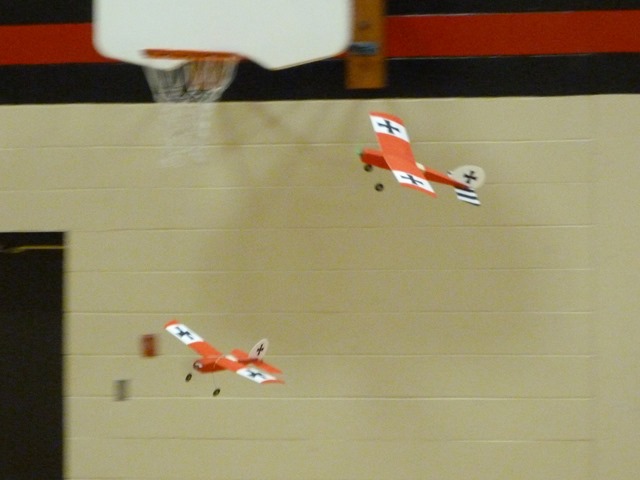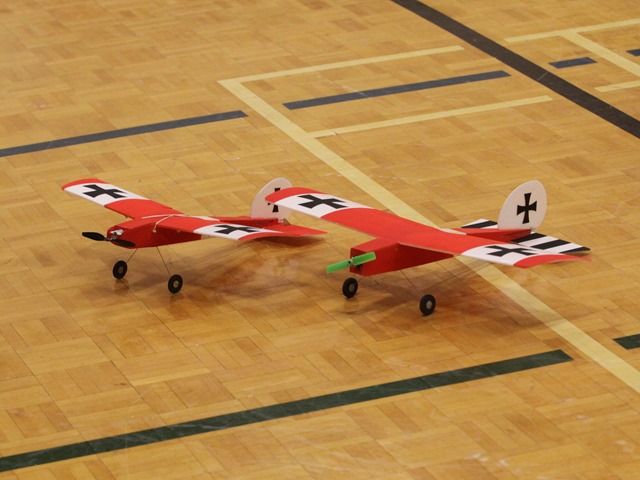 My Handley Page Heyford was back now with proper landing gear... errr... undercarriage - but still no sign of the aircrew.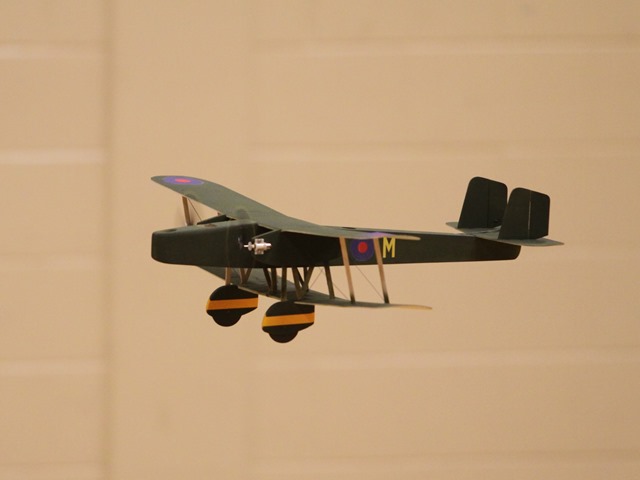 The Avitron V2.0 robotic bird is an outstanding achievement in micro engineering and aerodynamics and must be seen to be believed.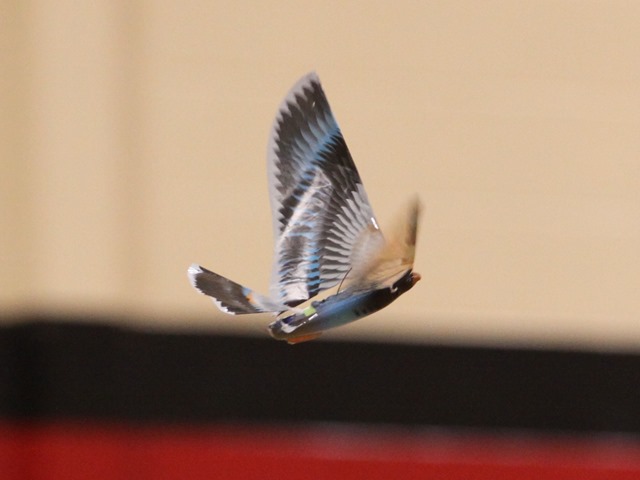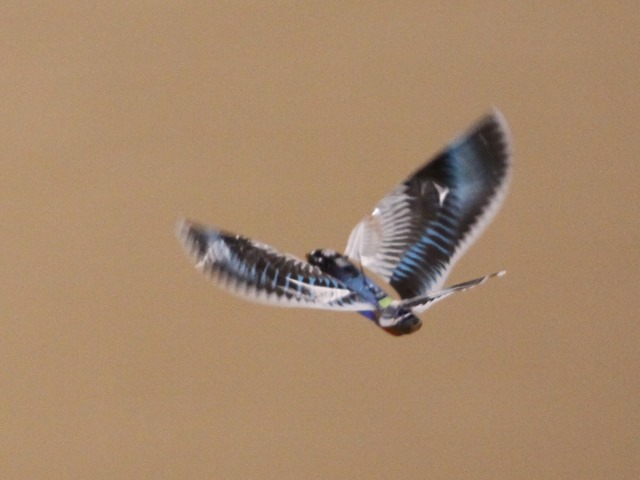 A remarkable photo seen here flying alongside an icon of the micro RC revolution and already considered an oldtimer' - the Flyzone Champ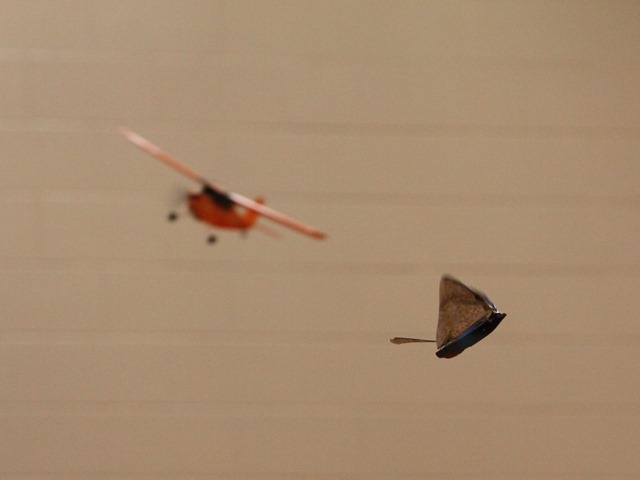 George's awesome and well lit hex-copter was back as well... Okay... who's been writing on the blackboard?
Of course, nobody else would dare to fly while this nasty beast is in the air! Hey... what's that on the right? A blackfly?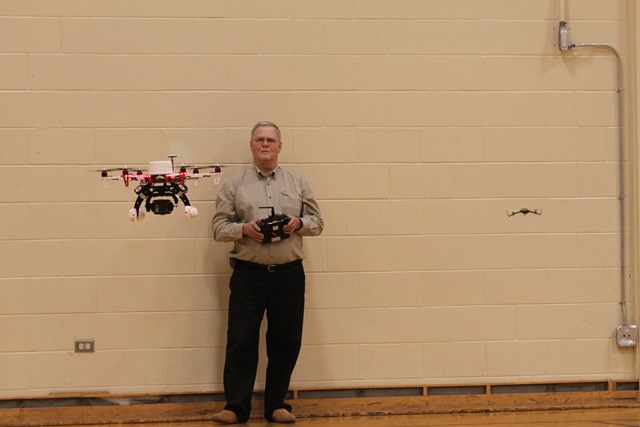 Like David and Goliath... Tom's tiny Nano Quad make a brave approach!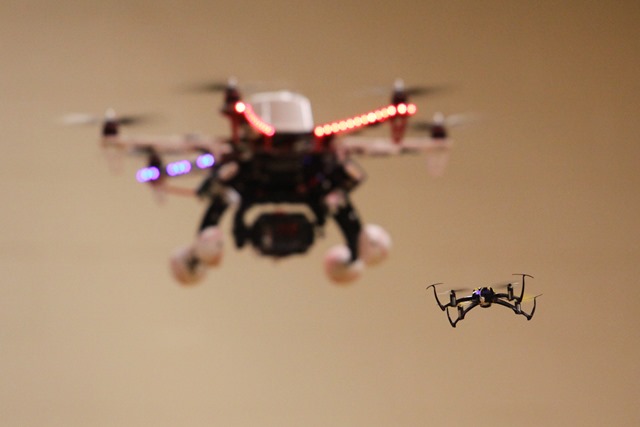 No damage done; with George's hex safely back on the ground, Sir Jasper made a few circuits...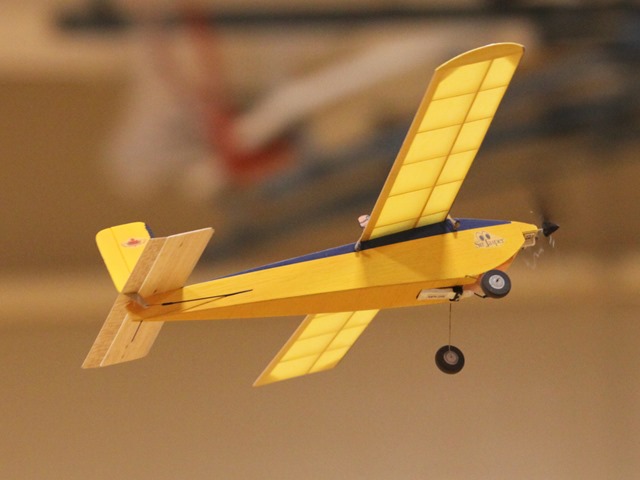 Here's Craig's new biplane from Hobby King... oh... what's it called again?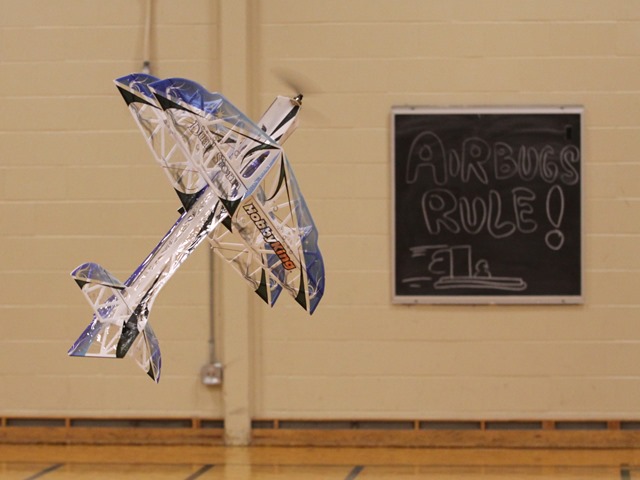 Oh ya.. 'Dual Storm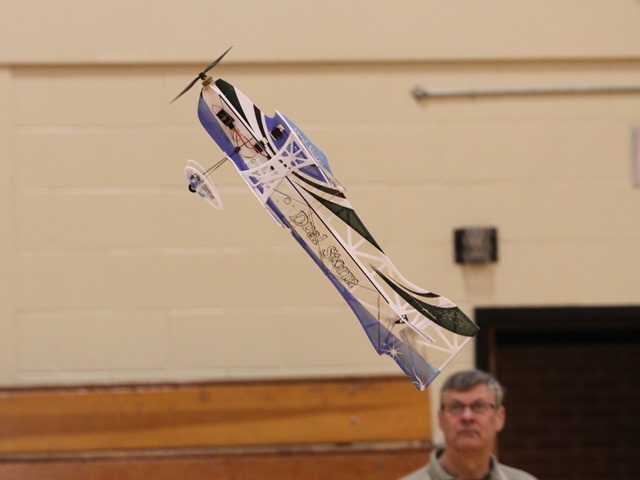 No, this is not a trick photo! It's just Cec doing a trick with one of those new fangled White Foamies from points East.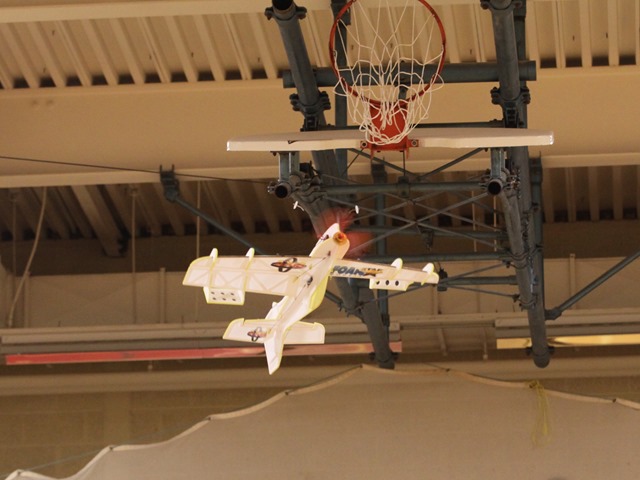 Here it is a little closer up...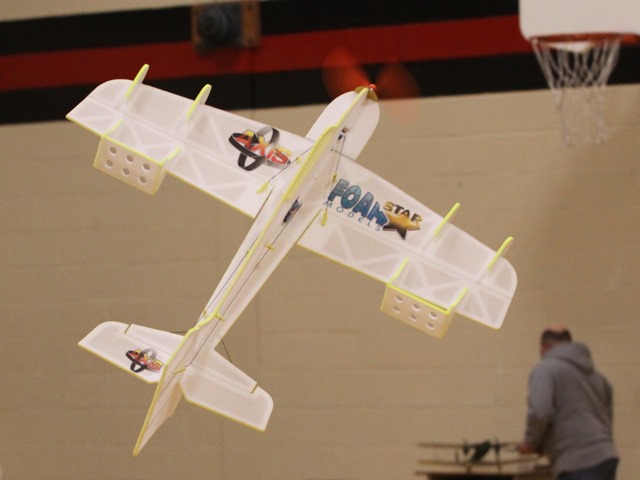 The first of the EZ-3D Trainer clones a real sweetheart!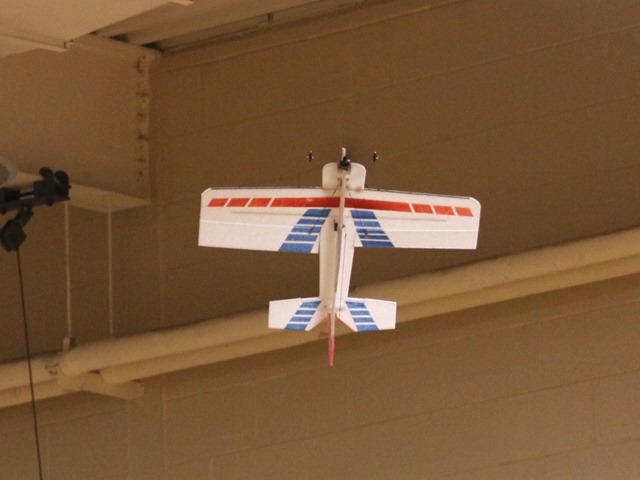 Seen here politely sharing the airspace with Craig's white foamie œAxis.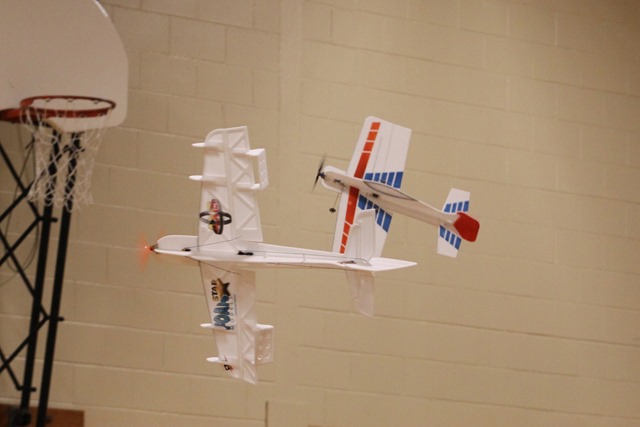 And there were some old fashioned blue foamies there as well. Looks like a S-Bach. Is that a grimace or a smile?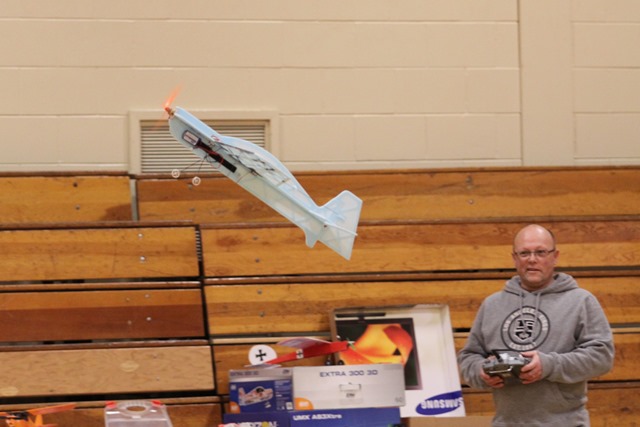 Line-up of Airbugs for the feature race. Matt's fearsome fast Ferrari with Robin at the wheel (third from left) is new this week.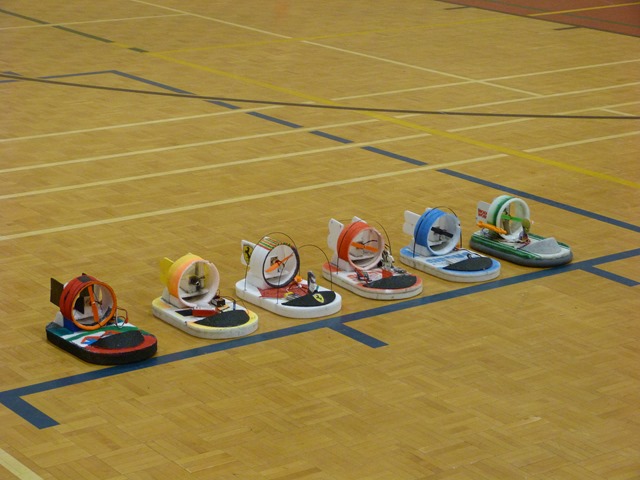 Newcomers like Larry (far right) are always welcome but don't be surprised if we stick a transmitter in your hands!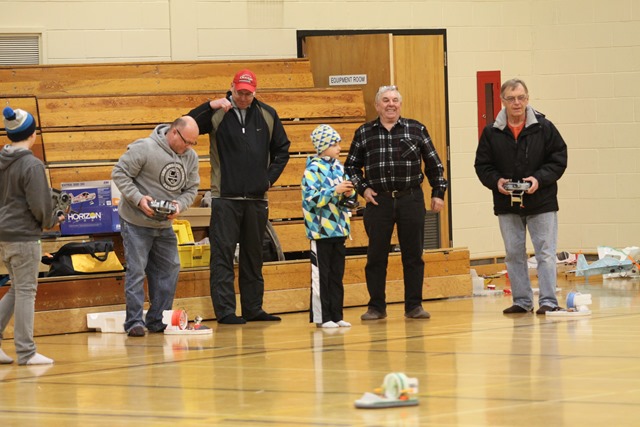 See you all next Saturday January 25th 1:00 4:00pm - Alexander Henry Downs Race Track. Be there!!!
Christian Moes