Skygipsy - original design Ray Malmström
On the cover of the September 2012 PMFC magazine is one built by Peter Adams, competing at a Sculthorpe Bowden.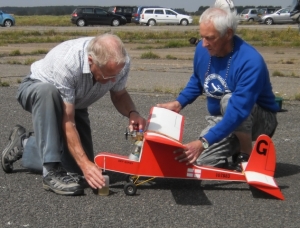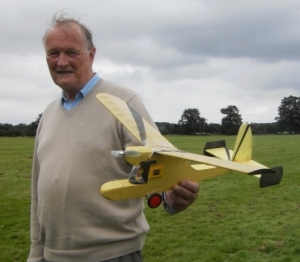 Inside the magazine is a half size model built by Graham Gostick
Whilst from Christian in Canada comes an r/c twin engined camera carrying version.
I was particularly taken with the camera on a pod at the front, looking backwards, which gives a different perspective to this video. Click to see the video on Youtube
Christian said:-
I have grown to really like this aeroplane. It is a very slow and stable flyer - easy to handlaunch (or ROG) and an ideal camera mount. To take the photo below, I shifted the 850 mAh battery pack from it's normal abode in the front compartment to the underside of the fuselage (just behind the CG) to balance the Mobius Actioncam mounted on a CF tube out front. You can see the yellow connector in the photo above, but battery is not in place.
Ray Malmström's design was intended for an entirely difference purpose - yet makes such a fine RC model with a few minor changes (e.g. symmetrical tailplane aerofoil).
I originally used a lifting tail and rearward CG (per original) and the R/C version was a beast. After changing CG and wing incidence several times - I was about to give up - but decided it was worth trying a "R/C type" symmetrical aerofoil tailplane and CG at normal location. The design was transformed - and is perhaps the most pleasant and forgiving aircraft in my fleet.
Click for a gallery of Skygipsy photographs.
Christian got the original plan from Outerzone who in their details say:- "Sky Gipsy - simple gas free flight, 27.5in span from Aeromodeller. MikeN mailed in to say - this was published in the Eagle book of model aircraft circa 1959.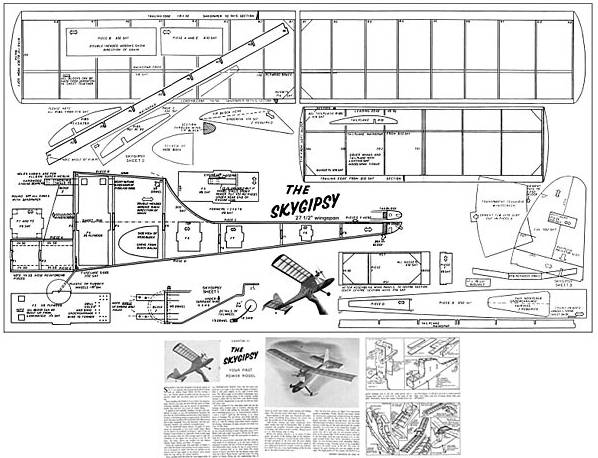 RC Model World for December 2014 have featured Christian Moes Skygipsy Twin as their free plan of the month. They have just started a feature where it is possible to download the plan as a .pdf file. There is an excellent article accompanying the plan but you will have to buy the mag for that!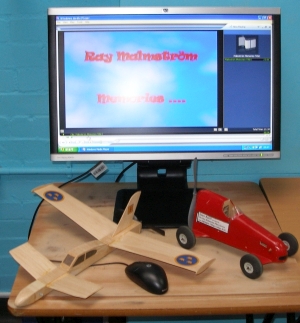 The other weekend I was at Impington Village College for an indoor meeting; it was the Impington Village College Model Aeroplane Club that Ray Malmström founded well over 50 years ago. See the front page of the clubs web site for more details about Ray Malmström.
You can also download the Ray Malmström Model Aircraft Bibliography.
At the meeting this November two of the club members were showing a video that they had complied from film that included pictures of Ray Malmström in action.
Tony Beckett
November 2014