From Ted Szklaruk, July 2016
Fervent aeromodeller Clive Phillips saw the bees in an magazine article out there in Australia and asked me for some plans and building instructions for the Peterborough Fet timers that I use. It is now the winter indoor season in Brisbane, Victoria, Australia and Clive tells me there has been quite a surge in interest in building the bees at his club.
I am promised a lot more pictures to follow in due course once Clive receives his Atomic Workshop voodoo 25 motors from the UK.
Then from Clive Phillips, Ballarat Aeromodellers in Australia

We have had some more cold weather and rain so I got some members of my Ozbee family on their feet. Not complaining tho - the rain is sorely needed.
This is Jack Ozbee, you will notice that being an Ozbee he is coloured appropriately in green and gold. He has just come in from a barbee (groan) so has rather bloodshot eyes, and his boots are grubby!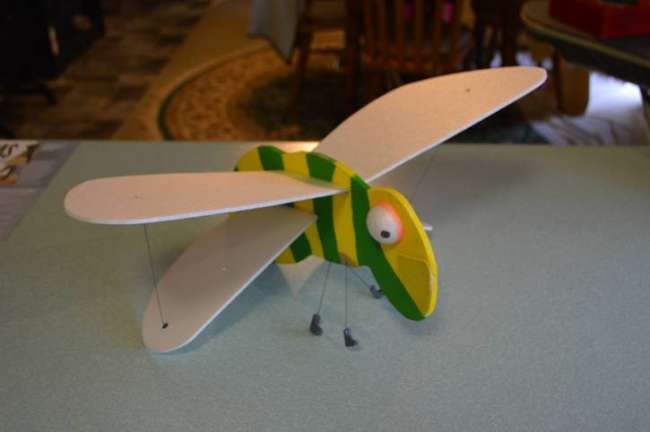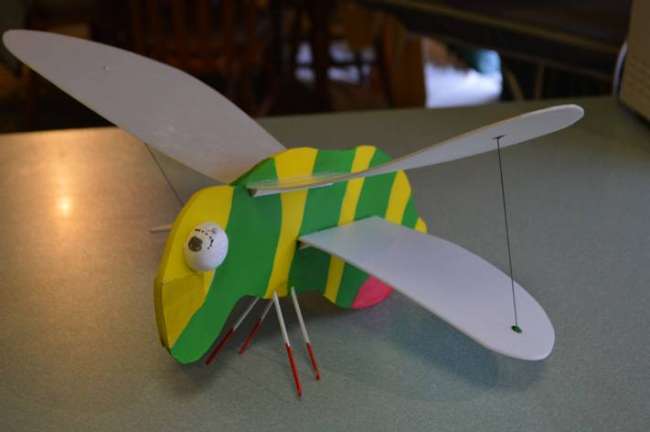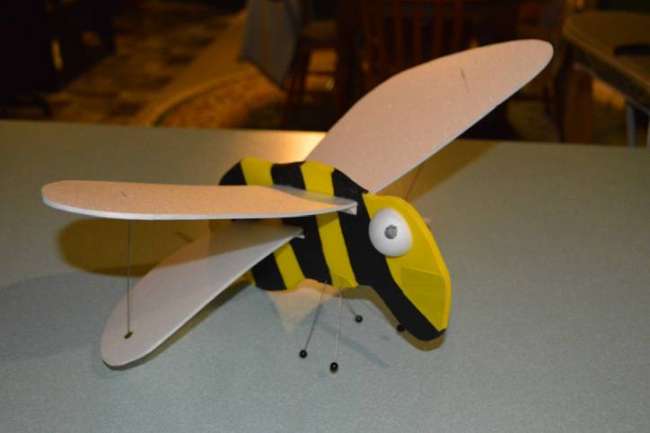 Hi Ted, lovely calm day so went to the Ballarat Aeromodeller Inc field - about 52 km/ 32 miles and while the lads were finding early season thermals with their RC electric assists, I took to the air with Jack - fabulous! Got some good flights in until the drift got a bit too much for me to chase, but very enjoyable nevertheless. Yep - they can handle a bit of breeze. The lads reckon the circuits we are accomplishing will fit in the basketball stadium we fly in so will see next Wednesday and let you know.
Updates:-
16th August 2016 from Clive Phillips
Hi Ted, just a note to let you know the Ozbee family is growing and interest is being shown for others to do more! Great. Jack Ozbee has appeared static on the MicronWings Oz website and I have had a couple of enquiries from that!! And on Wednesday night Jack has his first indoor flight and one of the club members will try to get video for you. Hopefully in two weeks at our next indoor meet I will have Jack and Jill Ozbee and Uncle Bumble and Aunty Dot visiting from the Ukbee northern hemisphere clan and we can do a mass s fly off. Will keep you informed.
I have had the opportunity to do some surfing of late and spent some time exploring your PMFC website and seeing just what you and others are doing and have done with the light foamy's. Fabulous, and I now have plenty of inspirations for continuing on that track. Too many guys just spend and get RTF and although I am doing that just once to get some RC skills up - that's it!! FF and small RC is lots of fun. Anyway - there's nothing on tele so what better to do than dream and make!! Our weather is now rapidly improving and although that means an increase in work to keep the 10 acres going, it still gives some lovely evenings to relax with the Bees. And being able to do it at home is a real bonus.
Many thanks again for giving me the inspiration and assistance for starting on this road,
Cheers, and keep well,
Clive
18th August 2016 from Clive Phillips
Hi Ted, yes, last night the first of my Beez had its indoor debut - which it handled magnificently. Eight consistent flights over the evening - and I had the last flight at the end of the evening when the battery was getting low. On that flight, from a slightly nose high launch, it descended to about 3 feet and then proceeded to descend slowly for the rest of the flight. That flight was filmed by one of the lads on his phone and he said he will get his son to email it to me - if they can work out how.
The Bee is now getting a lot more interest and I had two requests last night for drawings - and I will be chasing the lads up too!!
So - many thanks again for your help. I am seeing Lance tomorrow do get some soldering done properly so I should have 3 of the family complete by the end of the day - with my last one well on its way. An OzSwarm video is a must! And with the improving weather that should not be long - if only we can get the wind to die down more that just one day a week it would help
OK - keep well, keep modelling,
Cheers Clive


Click for video of an Australian Bee