Club Trophies
Club Trophies 2013
Eric Young Trophy(Outstanding contribution to club) - Brian Waterland
Brian Oliver Trophy(Unorthodox) - Ian Middlemiss,
Junior Trophy - Joe Rabicano,
Control Line - Dave Clark
---
Club Trophies 2012
Eric Young Trophy - John Ashmole,
Brian Oliver Trophy - Ian Middlemiss,
Junior Trophy - Joe Rabicano,
Control Line - Steve Turner,
Free Flight - Gareth Tilston
---

Club Trophies 2011
Eric Young Trophy - Brian Lever,
Brian Oliver Trophy - Ted Szklaruk,
Junior Trophy - Joe Rabicano,
Control Line - David Clarke,
Free Flight - Pete Gibbons
Control Line - David Clarke
---
---
Other Competitions
Just a few of the events in which PMFC members have achieved success.
2013
Bryan Lea, 2nd in the Power Scale Nationals

Mick Taylors C/L Results
12 May Old Warden Scatterbrain (with BVW) - 1st
19 May Barton Bash,Vintage Stunt - lst: Peacemaker Stunt 1st
8/9 June Clapa Champs, Vintage Stunt 2nd : Profile Aerobatics 6th
21 July Old Warden F2B 6the : Profile Aerobatics 2nd
24/26 August C/L Nats Vintage Stunt 2nd
7/8 Sept Old Warden, Rascsl (with BVW) 2nd
Also the free flight Bowden contest at the BMFA Nats
BMFA Prize Giving
Thanks to BMFA News for the photograph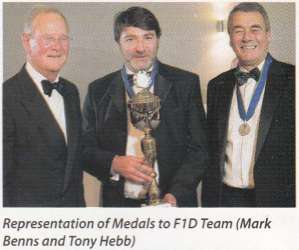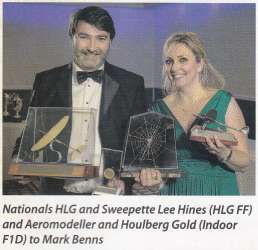 Mark Benns 2013: 1st HLG at Outdoor Nationals - 1st HLG at Indoor Nationals - 1st in F1D Team Trials - 1st in F1D Nationals - 2nd F1R Nationals - Silver Team Medal GBR Team F1D - 6th in individual European champs. Selected for GBR Team F1D for World Champs in Romania 2014
---
Wings of Portugal 2012

As guests of Julio and Sandra Isidro Team Lever/Waterland were 1st in Rascal Racing, 2nd Mini Goodyear, 3rd Phantom Racing.

Brian Lever 3rd in Phantom Speed

Brian Waterland 1st in Vintage Aerobatics and by borrowing BL's Phantom was 2nd in 1.5cc Phantom Speed and 2nd in 2.5 Phantom Speed.

BMFA Prize Giving 2012
Thanks to BMFA News for the photograph

Free Flight Scale at the BMFA Nationals 2012

Free Flight Power
2nd Stan Mauger
3rd Gareth Tilston

Rubber
Stan Mauger




CO2/Electric
4th Gareth Tilston
6th Richard Bould
7th Bernie Nichols

Mick Taylors Control Line Results 2012

May Old Warden 2nd Vintage Stunt. 1st Rascal SR with BW
F/F Nats 1st Rascal SR
July Old Warden 3rd Profile Aerobatics
August Slip End, Luton 1st Vintage Stunt
Nats 2nd Vintage Stunt
September Old Warden 1st Rascal SR, 5th Profile Aerobatics

BMFA Freeflight Nationals 2012
Kevin Tatlow 1st and Brian Lever 2nd in the Bowden Contest with Mark Benns 1st in HLG.

In the photo opposite, from Dave Bent, are the Bowden prizewinners. Bernie stood in for Kevin, who I hope, finally received the bottle of wine.

There were four other PMFC flyers in the Bowden out of a total of 18 entries.

CLAPA Championships in June 2011
Mick Taylor received the Tom Hughes Trophy, presented to the winner of Vintage Stunt.

Midlands Gala 2011
Martin McHugh was third in P30

Sam 35 C/L Scale, July 2011 at Old Warden
1st Place for David Clarke - click to read the report

Tony Dunsterville Memorial Trophy 2011
Click for the report

GDMAS 2011 - Comp 1
Click for the report

BMFA Prize Giving 2011
Thanks to BMFA News for the photograph

25th October 2010
Mick took this photograph at the Midland Gala of Peter collecting his certificate and a bottle of wine for coming 2nd in FIJ.
Mick came 2nd in HLG.

6th February 2011
Mark Benns and Mick Page did well in Crawley. With Mark winning both HLG and catapault and Mick second in HLG.