Wing Bags
Spotted by Dave Shipton, photographed by Ian Middlemiss....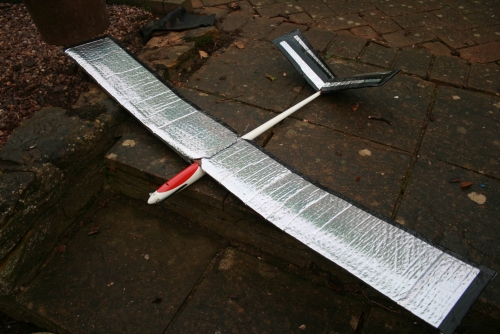 The material is sold as insulation at B and Q and consists of an inner and outer layer of aluminium foil, thicker than you might use in the kitchen, with a bubble wrap layer in the middle.
Ian said "You get 7.5m for £13 and I got 4 sets of bags out of a roll. There might be an insulation advantage to the electronics for the bags.
I have tried Wondaweb, (an iron on product used for non-sewing hemming on clothes), and hot glue for closure but I favour good old Gaffer tape in the end. The pix show an old STB_E with a set of bags. I have Hyperflight bags on the Elf and Dave's material is much heavier duty. The only thing to watch is to allow some headroom for aileron horns. I can complete a set in about 15mins."