MADRES build review
Herewith my winter project, assembling a MADRES 2m for the forthcoming BARCS 2 week postal challenge instigated by Jon Whitmore and run by Tony Beckett.
The design of the MADRES is very much outside of my comfort zone with an AR of 16:1, an EDA of 8.6degs and a 4.5% root thickness, it promises a brisk straight line performance. Sink rate and roll/yaw coupling might be an issue but nothing ventured, nothing gained. The promise of a fully machined CNC balsa wing was too much to resist. Assembly was uneventful, Hyperflight had supplied a passable translation of the German and there were no major hiccups. I made a few changes which included:_
Replaced the h_stab with my own design as the supplied stab warped badly Managed to save a gramme or two whilst so doing.
Replaced the front nylon wing bolt with a steel item to cope with 3kg bungee loads, probably unnecessary but I have no confidence in nylon in cold conditions.
Replaced most of the horns with my own design as the supplied throws were far too great. OK for the slope but for thermal I prefer smaller throws.
I finished the wing with 3 coats of B and Q exterior satin polyurethane rubbed down between coats. With little attempt at weight saving, the RTF weight came out at 360gms with no added nose weight.
AVIONICS:The RU/EL servos were cheap EMAX ES08 but I had to use a expensive spare X08 for the spoiler as the fuselage width is only a mere 22mm wide under the wing. This was a fiddly job using a 0.38mm piano wire push rod. The RX is an MPX RX5 M-link with an MPX altimeter driven by a 300mah 2s LiPo and a Zepsus magnetic switch with a 5v BEC regulator.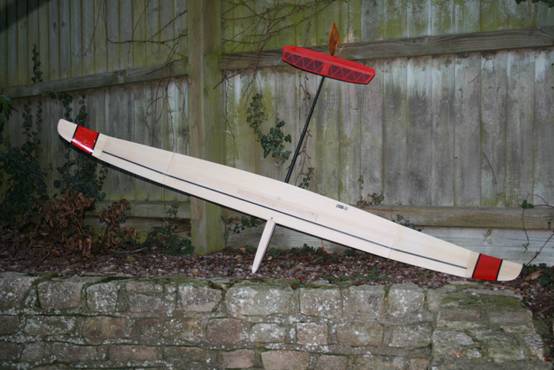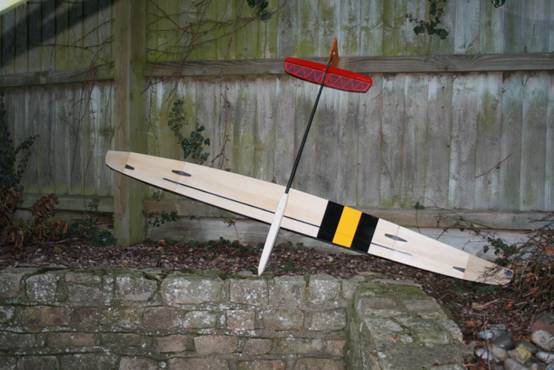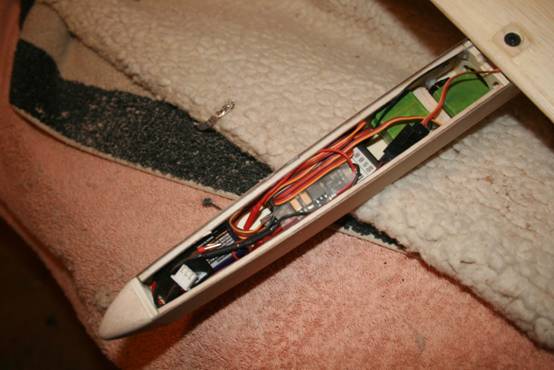 Ian Middlemiss
Spring 2017