Aviation Titbits
Institution news
The only surviving prototype de Havilland Mosquito aircraft receives Engineering Heritage Award
04 Apr 2018
Press Office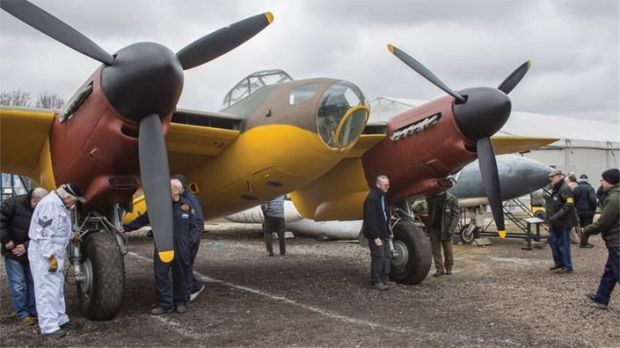 Havilland Mosquito
The aircraft receives the accolade from the Institution of Mechanical Engineers in recognition of its pioneering bonded composite construction, which is still in use today.
The de Havilland DH.98 Mosquito, one of the fastest operational aircraft in the world when it entered service in 1941, has been presented with an Engineering Heritage Award by the Institution of Mechanical Engineers at a ceremony at the de Havilland Aircraft Museum in Hertfordshire on Sunday 1 April, the 100th anniversary of the Royal Air Force. The fast, high-flying Mosquito was, for much of WWII, able to roam almost at will over enemy-occupied territory. Built with wooden components, it was designed for speed and range as a two-seat unarmed light bomber, unarmed reconnaissance aircraft and long range fighter. Its performance derived from a combination of careful packaging, an aerodynamically clean shape, a high wing loading (I suspected this was a factor) and high power from two supercharged liquid-cooled V-12 Merlin engines.
The design of the Mosquito evolved over well over 30 variants and it excelled as a multi-role aircraft. The prototype achieved a maximum speed of 437mph in October 1942 at 29,000 feet. Previous winners of Engineering Heritage Awards include Alan Turing's Bombe at Bletchley Park, the E-Type Jaguar and Concorde, the fastest ever airliner. Other aircraft-related winners include the Short SC1 VTOL aircraft, a plane which provided data that influenced later designs of aeroplanes, the Rolls-Royce RB211 engine and the Vulcan Bomber XH558, the last airworthy representative of the RAF's V-bomber fleet.
The de Havilland DH.98 Mosquito Prototype is the 117th recipient of the award.
Charles Clarke, Associate Member of the Institution of Mechanical Engineers, said:
"Confident in their vision for this aircraft, de Havilland persisted with the design and prototyping against Ministry setbacks (Lord Beaverbrook cancelled the project after Dunkirk) and the first flight took place on 25 November 1940. Exactly 7,781 Mosquitos were built – a vindication of de Havilland's vision. The Mosquito's construction from wood meant that it was easily repaired and it enabled furniture and piano factories in England, Canada and Australia to build the aircraft. The absence of armaments meant that it could be kept aerodynamically clean and could carry higher payloads – a philosophy continued by the Canberra and the V- bombers. Certainly no aeroplane flew so many different types of mission and performed them as well as the Mosquito."
NASA's weird investments in the future of space travel
SPARROW
We're yet to explore any icy, ocean worlds, but when we do traditional rovers aren't going to cut it. SPARROW, which stands for 'Steam Propelled Autonomous Retrieval Robot for Ocean Worlds,' is a spherical robot designed to hop around the surface like a bouncy ball.
Marsbee
Developed by Chang-kwon Kang at the University of Alabama, the Marsbee is a bumblebee-sized robot with flapping wings, designed to explore Mars in a swarm. A rover will act as a mobile charging station, and the 'bees' will be able to hover while using less energy thanks to the low gravity. (This is ancient stuff, anyone remember the Dan Dare series in the 1950s in which Earth was invaded by thousands of tiny flying things?)
SpaceX president: Travel by rocket instead of airplane 'within a decade'
Gwynne Shotwell believes 16,000mph commercial rocket flights will happen by the late-2020s
Alistair Charlton Apr 12, 2018
Many eyebrows were raised when Elon Musk published a video claiming his SpaceX rocket company was planning to blast commercial passengers across oceans in under an hour.
But now, seven months and several successful SpaceX launches and landings later - although none with humans onboard - the company's president says commercial passenger rockets will be with us within a decade. Speaking at the TED Conference in Vancouver this week, SpaceX president and chief operating officer Gwynne Shotwell said: "This is definitely going to happen", adding that the technology will be ready and operational "within a decade, for sure," reports the Vancouver Sun.
The computer-generated video published by Musk in September 2017 suggested that, by 2024, up to 100 passengers would board a rocket which would fly high into the atmosphere and cross the Earth at 16,000mph (compared to the 600mph or so of a conventional airliner). They would then land at rocket pads located a few miles outside of major cities.
In an Instagram post at the time, Musk said: "Fly most places on Earth in under 30 minutes and anywhere in under 60. Cost per seat should be about the same as full fare economy in an aircraft." (Does this include travel insurance?)
Engineering news
Wing shape research could reduce dangerous vortex turbulence
15 May 2018
Joseph Flaig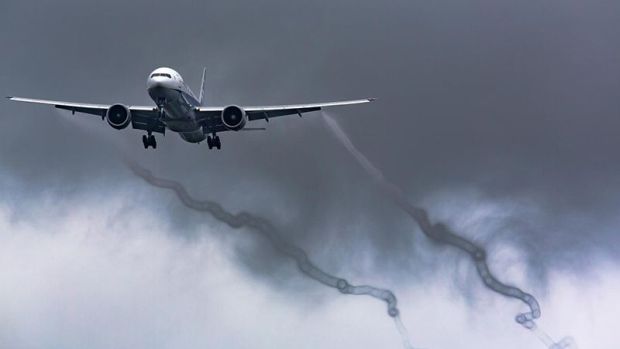 Wingtip vortices trail behind a plane (Credit: Ryoh Ishihara)
Like "tiny horizontal tornadoes" trailing behind large aeroplanes, wingtip vortices pose a serious danger to smaller aircraft.
The swirling, invisible trails of artificial turbulence can flip small planes and force flight pattern separation, but research from the University of Illinois could help lessen the risks.
Led by aerospace engineer Phillip Ansell, The work studied the probable formation of "destabilising flight hazards" behind the wings.
The risk to small aircraft is clear, said Tim Robinson, editor in chief of the Royal Aeronautical Society's Aerospace magazine: "Don't get into the wake vortex."
"If you are a smaller aircraft and you get into the vortex of a bigger aircraft like an A380, it can flip you over," he told Professional Engineering. "It is not just Cessnas, there have been cases when business jets come across a wake in the cruise and experienced upset."
Although most wing shapes used today create the turbulent vortices, the Illinois study demonstrated different geometrics to reduce or eliminate them almost entirely.
Assistant professor Ansell said: "The elliptic wing configuration has been used as the gold standard of aerodynamic efficiency for the better part of a century. We teach our students that it has the optimal loading characteristics [ratio of lift to weight] and that it's often used when looking at wing efficiency for, say, minimising drag.
"Previous academic studies have shown that, theoretically, there are other designs that actually provide lower drag of a planar wing for a fixed amount of lift generation. But what has been missing is an actual apples-to-apples experiment to prove it." Ansell and his graduate student Prateek Ranjan used data from previous research to analyse the elliptic, Jones and Prandtl designs. The pair saw "significant differences" in how the wings' wakes developed, with no vortices behind the Jones and Prandtl configurations. "They had a much more gradual bulk deformation of the whole wake structure, rather than an immediate coherent roll-up," said Ansell. "We now know that we can delay the formation of wake vortex structures, and increase the distance it takes a trailing wake vortex to roll up by about 12 times, making it weaker and less of a hazard to the aircraft entering its wake." 'It is a big issue' Reducing vortices could allow closer flight patterns or help develop ideal lift configurations for take-offs and landings. "Wake vortices and the weight of aircraft are what drives separation, both at airports and at cruise," said Robinson. "It is a big issue, and for busy airports it is staggering arrivals. If the wake vortex dissipates, you can squeeze more planes in." Despite finding Jones or Prandtl wings would have less turbulent air in their wake, Ansell said they are not always the right option for new aircraft. "One of the things that first drew me to the topic of aerodynamics is that the right answer always depends on what your constraints are," he said. "If you're building a tiny unmanned vehicle that will fly at a low speed, you'll get a different solution for design needs than if you're building an aircraft that will carry people at high altitudes and high speeds. So technically, you could argue that all three wing types are the best solution. The question is, what are your driving constraints, such as wingspan and weight, behind selecting one of them?" The research was published in the Journal of Aircraft.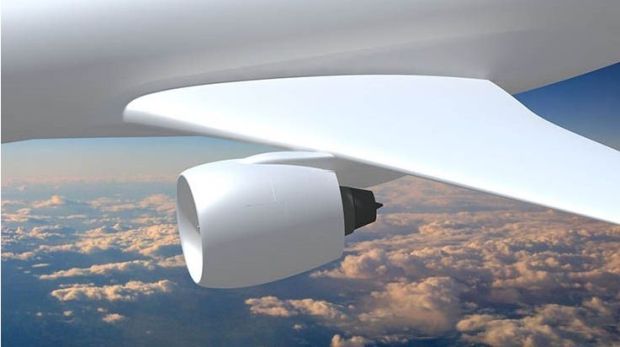 Airbus, Rolls-Royce to collaborate on UltraFan engine integration
Demonstration co-funded by Clean Sky 2, the European Union research program focused on developing technology to reduce emissions.
May 8, 2018
Edited by Eric Brothers
Airbus and Rolls-Royce have signed a collaboration agreement for the integration of Rolls-Royce's UltraFan demonstrator for flight testing. The integration solutions demonstration will be co-funded by Clean Sky 2, the European Union research program focused on developing technology to reduce emissions.
UltraFan is a scalable jet engine design suitable for widebody or single-aisle aircraft and offers a 25% fuel efficiency improvement over the first-generation of Rolls-Royce Trent engine.
One element of the UltraFan program is planning for ground and flight tests, and to support this Rolls-Royce has signed an agreement with Airbus to provide both nacelle and engine/aircraft integration architecture and technology enablers. Airbus' integration solutions will play an important part in achieving the overall fuel efficiency improvement of higher bypass ratio engines such as UltraFan, through innovative architecture and associated technologies. Axel Flaig, Airbus head of research and technology, said, "This technology development program with Rolls-Royce is a key project for Airbus to pave the way towards the next generation integrated propulsion systems that will be needed by airline customers towards the end of the next decade.
UltraFan features a new engine core architecture and lean-burn combustion system which will contribute to improved fuel burn efficiency and lower emissions, along with a carbon titanium fan blade system and composite casing which reduce weight. The engine also introduces a geared design to deliver efficient power at high-bypass ratios.
Rolls-Royce Finds New Trent 1000 Durability 'Issues'
by Gregory Polek -
June 11, 2018, 11:55 AM
Rolls-Royce has identified another durability issue in its Trent 1000 series engines, this time involving the intermediate pressure compressor in the Package B version. The variant has flown in service on Boeing 787s since 2012 and consists of 166 engines. The engine company said it has agreed with regulatory authorities to carry out a one-time inspection of the Package B fleet to "further inform" its understanding of the problem.
Rolls added that it expects the European Aviation Safety Agency to issue an airworthiness directive in "the coming days," resulting in "limited impact" on customer operations.
"We are committed to eliminating this intermediate pressure compressor [IPC] durability issue from the Trent 1000 fleet and we have already successfully run a redesigned Package C IPC in a development engine," said Rolls-Royce in a June 11 statement. "As a precautionary measure we have also launched a redesign of the relevant part in the Package B engine as well as in the Trent 1000 Ten engine, where, although currently a young fleet, we have not seen any examples of reduced IPC durability."
In April Rolls-Royce advised operators that its Trent 1000 Package C engine would require more inspections than previously planned to address premature wear of compressor blades, a problem that first came to light in 2016. The company reported that it had delivered 380 Package C engines, powering some 25 percent of all Boeing 787s in service. The majority passed inspection and therefore continues to fly, according to a Rolls-Royce spokesman who declined to enumerate "majority."
The UK aero-engine company said in late May that it would accelerate the development of the permanent fix to the IPC rotor issue on Package C engines and that it had installed a revised compressor blade in an engine scheduled for testing this month. "We aim to have first parts available for engine overhaul in late 2018, rather than 2019 as originally planned," Rolls-Royce civil aerospace president Chris Cholerton said.
Rolls also said it had begun speeding the development of the new blade and a dedicated facility in Derby to build engines on which it will test it. It also developed new on-wing inspection techniques to support airlines in meeting the requirements of the airworthiness directives "as quickly and efficiently as possible," it said.
Cholerton admitted Rolls-Royce expects the number of aircraft affected "to rise in the short term, as the deadline for the completion of initial inspections approaches," though it remains tight-lipped on the actual numbers. "We are not confirming number of aircraft grounded," the spokesman said.
Denis Oglesby
[email protected]