Miniaturising FET Timers
I've been seeing how small I can go with a Peterborough FET timer for micro indoor electric free flight. I know Ian experimented with this because I found some of the tiny FETs in his stock.
The best I have done so far is shown below. A 4mm micro heli tail rotor motor, timer and lipo for a total of 1.85g. The motor weighs 0.75g. The battery (0.6g) was bought as a '30mAh' from china on Ebay, although I've been told it's more like 15mAh in practice. I removed the PCM (charge/discharge protection) circuit and added a micro JST connector.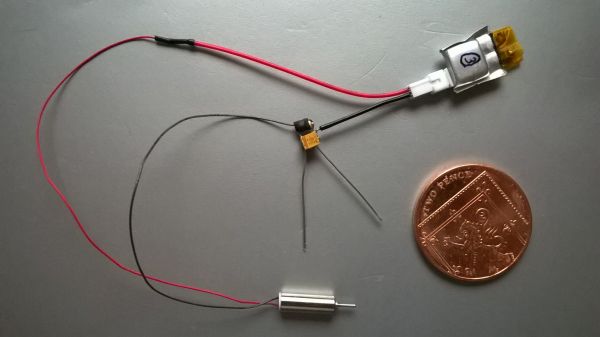 The timer uses a surface mount AO3034 FET (click for data sheet). It's rated for 4 amps current but the real limiting factor is a Power Dissipation of 1.4 watts -equating to 350mA current at 4V. This is probably about right for the 4mm motor. The major hurdle to overcome is soldering such tiny components and the fragility of the solder-to-wire joints. To overcome this I ran the 'drain' wire through a small piece of heatshrink on the resistor which should take mechanical loads off the solder joint. The female JST connector on the timer weighs 0.2g.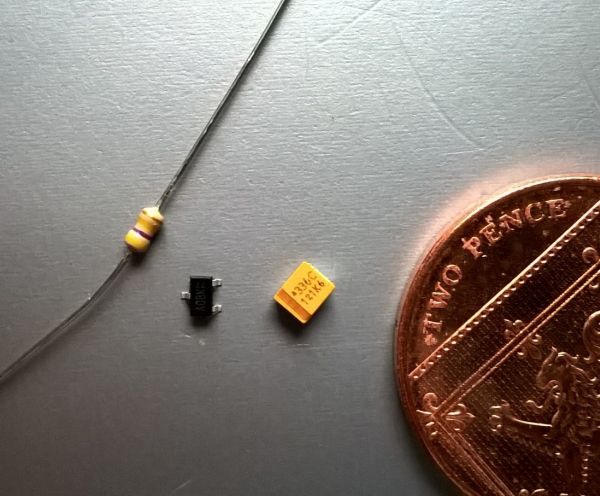 The 470K ohm 1/8W resistor wire 'legs' form the basis of the timer and the zapper terminals. The FET and the 10V 33uF SMD capacitor are soldered to the resistor wires. A zapper with a potentiometer is needed to vary the motor run times. Using a 470K ohm resistor the maximum time is about 35 seconds with a 9V zapper.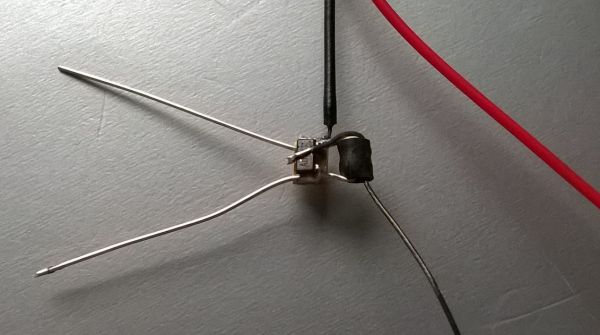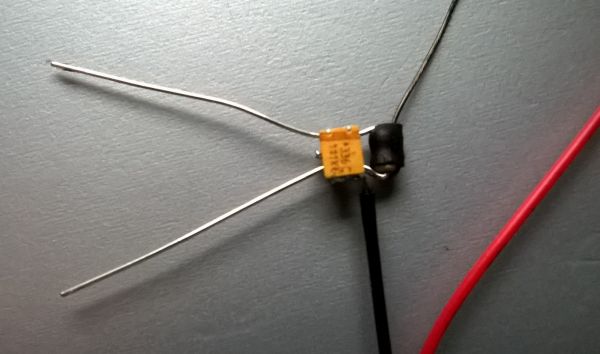 At about 0.25g excluding wires, this is my current size record for a functional FET timer but I think it may be possible to go smaller still with a lower voltage capacitor that has a smaller case but this will require a lower voltage battery for the zapper.
Jonathan Whitmore
March 2018