Mercurian Mites from Canada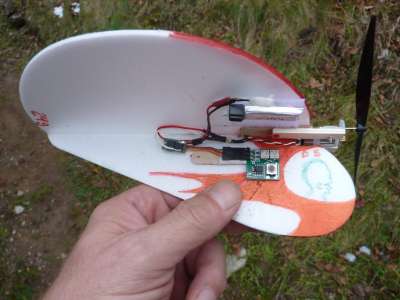 I was delighted to get the following information from Christian Moes, Richards Landing, Ontario, Canada.
I want to thank you for the excellent website - and especially the coverage of the amazing Mercurian Mite. Of course, we've never heard of the MM here in central Canada - but, inspired by Gray and your website (e.g. videos of MMs in action), we have been conducting our our evil experiments - indoors, as the winter winds howl outside.
The first lesson learned was the wattage required to put any tension at all on the lines, and that old fashioned Dacron just doesn't work! Our version of the saucy saucer from Mercury is 7" dia. in 3mm Depron and has a brushed Parkzone Corsair geamotor (black back). Pixie 7A ESC, Simple CL Timer, 160 mAh LiPo and presently weighs 24 g wet.
We are using 6 lb test "Spider Wire" Teflon coated braided fishing line - about 20 ft with good success. Our group (Soo Modellers) Sault Ste. Marie, Ontario flies every week, exclusively RC until two weeks ago. I now have 3 others indoctrinated - and hope to add to the list on a weekly basis. Check out the smiles on those faces! I am also very pleased to report that even a 15 year old gets dizzy after 20 seconds of this nonsense, and it's not just an "age" thing.
| | |
| --- | --- |
| Photographs by Peter Smith | |
| | |
Links to other Mercurian Mite pages:-
Mercurian Mite - - - - Mercurian Mite, indoor control line flying.
Increased power Mercurian Mite