Gyminnie Cricket
With the indoor season now well underway it seemed worth while to make a web page of Bernies e-mail from the beginning of October where he said:-
I've attached to this email a zip file containg an A4 and A3 printable plans and building instructions from the BMFA website, one or two were asking for plans.
(With thanks to the BMFA here are direct links to the .pdf files:-
Gyminnie Cricket Instructions - - - Gyminnie Cricket A4 Plan - - - Gyminnie Cricket A3 Plan)
There's also more information here for those of a curious nature:-
www.bmfa.org/tech/indoor/index.php
I have also ordered a Pack of GC prop. nose bearing assemblies from the BMFA, I shall have them with me at the indoor meetings. They work out at 40p each.
Talking of which, Mick Groom measured the soft wire prop shaft diameter and it comes out to 19 s.w.g. or 1 mm (as near as makes no diff) so if you have any 1mm piano wire it makes a good (and legal) replacement for the crap shaft supplied. otherwise perhaps a 20 s.w.g shaft and an alum tube bush? (I use a pre-formed 1/32nd piano wire shaft (available from SAMS and Flighthook) and a corresponding bush. adding a glass bead bearing makes a big difference as well. (also available from SAMS or Flighthook).
See you at Oundle avec Gyminies. (prop assemblies available on the night, bring change!)
Bernie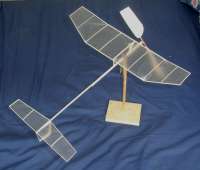 For those who have not seen a Gyminnie Cricket I "borrowed" this picture of his light weight version from John Andrews web site, which is worth a look as he seems to have similar interests to many PMFC members and has been to Flying Aces as well as Oundle.
Click for the web page. The Gyminnie Cricket is at the bottom.