August 2018
Give YR (based in Norway) a try for lots of information on an uncluttered web page.
Peterborough - - - - Buckminster - - - - Barkston - - - - North Luffenham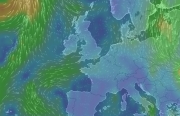 April 2015
Click the map for an excellent wind chart and then local forecast from Windy.com.
May 2014
In January 2013 I put a link to www.metcheck.com on this web page as I have always appreciated their semi-technical description of the current trends and weather patterns, whilst the clarity of their forecast tables is amongst the best.
Another feature of Metcheck that I liked was the section where it offered a large variety of 'extras' - the United Kingdom and Hobbies buttons were the most useful. The following are well worth exploring:- Route planning - - - Upwind Precipitation Detector. - - - 15 Minute Precipitation Type Radar.
Having said all that it turns out that the weather page that I look at more than any other is XC Weather, always with the 'wind' option to get the overall picture, then move over Wittering to get the current wind speed as well as the history, whilst a click there gives a five day forecast. I like the history feature as I get the feeling that XC Weather forecasts are less accurate than Metcheck, the Met Office or the BBC and for any particular days wind speed a look at the 'actuals' can sometimes give an indication of how accurate the forecast for the next few hours is likely to be.
Local weather stations
Accurate wind speeds are always a problem and for this it is sometimes handy to see what the "actuals" are at local weather stations.
Click for the Met Office map of their reporting stations, as you see, with just Wittering reporting locally, things are a little sparse.
However there are enthusiasts who run weather stations of their own and present the data in their own way. Click for one from Peterborough:- Park Farm
BMFA Buckminster have their own weather station attached to the chimney of the office/house.
You can get a brief report from the right of their web site front page.
Try here for a comprehensive report via the WeatherLink Network
December 2018
Another possibility for enthusiasts reporting from their own weather stations is
DarkSky who say they are "the most accurate source of hyperlocal weather information."
Zoom in on the map, having chosen "Wind Speed" from the drop down options.
---
Should you want "actual" weather from local reporting airfields then try MetarWeather, a small utility that enables you to choose which airfields to display.
---
If you want to go really over the top give Meteoblue.com a try for an amazing number of options.
Tony Beckett
Updated August 2017