Awards
2013
Club Trophies
Eric Young Trophy (Outstanding contribution to club) - Brian Waterland
Brian Oliver Trophy (Unorthodox) - Ian Middlemiss,
Junior Trophy - Joe Rabicano,
Control Line - Dave Clark
2012
Club Trophies
Eric Young Trophy - John Ashmole,
Brian Oliver Trophy - Ian Middlemiss,
Junior Trophy - Joe Rabicano,
Control Line - Steve Turner,
Free Flight - Gareth Tilston
2011
Club Trophies
Eric Young Trophy - Brian Lever,
Brian Oliver Trophy - Ted Szklaruk,
Junior Trophy - Joe Rabicano,
Control Line - David Clarke
Free Flight - Pete Gibbons
Control Line - David Clarke


Ray Malmstrom Trophy 2011
Was awarded to Brian Waterland at the BMFA Annual Awards ceremony. The trophy is awarded for services to aero-modelling outside the auspices of the BMFA and was presented to Brian by Sir Michael Alcock. Brian joins an illustrious list of former winners.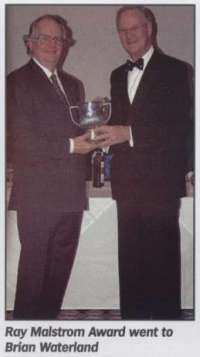 Thanks to BMFA News for the photograph.
2010
Brian Lever was awarded the BMFA Certificate of Merit in 2009 and Royal Aeronautical Society Bronze Medal in 2010